Featured Quote
"How can I know what I want to do later when I don't even know what I want to do right now?"

—
Taiga Aisaka
Polls
Who's your favorite character out of the main cast?
What's your favorite Toradora opening/ending?
Did you know?
Toradora! actually started off as a Light Novel series that was then adapted into an anime series.
Toradora! was written by Yuyuko Takemiya.
The title Toradora! is derived from the names of the two main characters Taiga Aisaka and Ryūji Takasu. Taiga and Tora are Japanese terms for tiger, while Ryū means dragon.
Taiga Aisaka's Japanese voice actor is Rie Kugimiya, who voiced a lot of tsundere anime characters such as the character "Louise" from The Familiar of Zero.
Many say that Taiga resembles Louise from "The Familiar of Zero" because of their looks and their personality. 
Minori Kushieda's Japanese voice actor is a singer, and sung both Silky Heart, and Vanilla Salt, as well as other songs in the series.
Featured Video
Helping Out!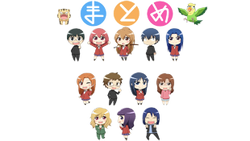 References
Community content is available under
CC-BY-SA
unless otherwise noted.